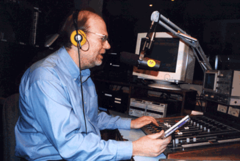 Image by: Sejan Yun
1st of 2 fund raising editions for Fall 2011
Broadcast History
The Bluegrass Review is broadcast on:
KBEM-FM (Minneapolis)
KSRQ-FM (Thief River Falls, MN)
KQAL-FM (Winona, MN)
KMSU-FM (Mankato, MN)
KLQP-FM (Madison, MN)
KUMD-FM (Duluth, MN)
KDDG-FM (Albany, MN)
KOJB-FM (Cass Lake, MN)
WRRW-FM (Williamsburg, VA)
WLNZ-FM (Lansing, MI)
KRWC-AM (Buffalo, MN)
KUCB-FM (Unalaska, Alaska)
KFSR-FM (Fresno, CA)
KSOW-FM (Cottage Grove, OR)
WPCA-FM (Amery, WI)
KPVL-FM (Postville, Iowa)
KALA-FM (Davenport, IA)
WVMR-AM (Frost, WV)
WVLS-89.7 FM (Monterey, VA) Also repeater W278AL, 103.5 FM.(Durbin, WV)
WCHG-FM (Hot Springs, VA)
KHEN-FM (Salida, CO)
WVMM-FM (Grantham, PA)
WOMR-FM (Provincetown, MA)
WQVR-AM (Southbridge, MA)
KSVR-FM (Mount Vernon, WA)
KSVY-FM (Mount Vernon, WA)
KCUW-FM (Pendleton, OR)
WUOW-FM (Oneonta, NY)
WLRV-FM (Lebanon, VA)
WSAJ-FM (Grove City, PA)
KMBH-FM (Harlingen, TX)
WQBR-FM (McElhatton, PA)
WOOP-FM (Cleveland, TN)
WUIS (Springfield, Il)
WAMU's Bluegrass Country www.bluegrassradio.org
Radio Bluegrass International at www.bluegrassmuseum.org
KENC-AM (Staton & Sublimity, OR)
WNTI-FM (Hackettstown, NJ)
WQUB-FM (Quincy, IL)
WNRV-AM (Narrows, VA)
WHAW-AM (Weston, WV)
WKCC-FM (Kankakee, IL)
KBVR-FM (Corvallis, OR)
WKZE-FM (Red Hook, NY)
WKWC-FM (Owensboro, KY)
WESU-FM (Middleton, CT)
KRMN-FM (Mena, AR)
WHDD-FM (Sharon, CT)
KQIX-FM (Perryville, AR
KWLC-AM (Decorah, Iowa))
KIOS-FM (Omaha, NE)
KPPR-FM (Williston, ND)
KMPR-FM (Minot, ND)
KDPR-FM (Dickson, ND)
KCND-FM (Bismarck, ND)
KPRJ-FM (Jamestown)
KUND-FM (Grand Forks, ND)
KDSU-FM (Fargo, ND)
WSUW-FM (Whitewater, WI)
WTIP-FM (Grand Marais, MN)
WWED-FM (Fredericksburg, VA)
WWEM-FM (Lynchburg, VA)
KRZA-FM (Anamosa, CO / Taos, NM)
NRBN.FM (Nashville, TN)
KMXT-FM (Kodiak, AK)
KVRZ-FM, 88.9 (Libby, MT)
WITH-FM, 90.1 (Ithaca, NY)
CFUV-FM, 101.9 FM (Victoria, B.C., Canada)
WDCB-FM 90.0 (Chicago, IL)
WDRT-FM 91.9 (Viroqua, WI)
WEZU 95.9fm (Roanoke Rapids, NC)
KOTZ-AM & FM (Kotzebue, AK)
KKRN-FM 88.5 FM (Bella Vista, CA)
WHYR-FM. 96.9 (Baton Rouge, LA)
KAHU-FM, 91.7 (Pahala, Hawaii)
KSBP-FM 103.9 (Parachute, CO)
Southern Branch Bluegrass (www.southernbranchbluegrass.com/
Geneva Community Radio (www.genevaradio.blogspot.com
Boston Free Radio (www.BostonFreeRadio.com)
KPCF (www.http://theinspirationradio.wordpress.com)
KTDB-FM, 89.7 (Pine Hill, NM)
KURT-LP 100.7 (Stephenville, TX)
Timing and Cues
1) 12:21
2) 9:54
3) 9:49
4) 6:39
Additional Credits
The Bluegrass Review is supported by a grant by the National Endowment for the Arts.
Related Website